AutoGrip Large Thru-Hole Air Chucks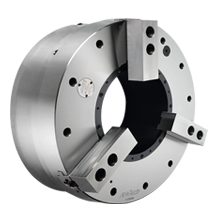 This power chuck series offers a unique air supply system, which increases changeover speed and minimizing downtime. This system also comes with a "pressure detection" safety feature, which stops the operation if the air supply gets compromised. Choose from a variety of sizes, all of which come with 3 jaws and a large thru-hole.
Air chucks can be used as an alternative, and an easy replacement, for manual or hydraulic chucks. Air Chucks are used in a variety of applications such as milling, turning, rotary tables, welding applications, and more, and can be installed in both vertical and horizontal operations. 'A' style short taper adapters are available from stock, and we can produce any adapter or baseplate configuration required to support any application.
Autogrip pneumatic chucks feature a unique and patented air feed system that utilizes a built-in cylinder for air delivery providing high gripping force and clamping capacity. This patented built-in cylinder eliminates the traditional sealed (distributor) ring. Autogrip's new patented system greatly reduces the need for maintenance, eliminates down time, and it makes these chucks very easy to install.
Power Chuck Options
3 Jaws
Large Thru-Hole
Patented Air Supply System
Built-In "Pressure Detection" For Safety
Quick And Easy Changeover
9"–27" Diameter